What Should You Expect In An Expert Plantation Shutter Installation in Orlando?
You've taken the time and consideration in choosing your new plantation shutters to guarantee you have the perfect window treatments. Now all you have left is for these wonderful additions to be added to your windows. This process should be handled with care by experts, so you get the shutter install you envisioned.
Here's what you should expect in an expert plantation shutter installation in Orlando.
Professional Shutter Installation in Orlando Begins with a Quality Plantation Shutter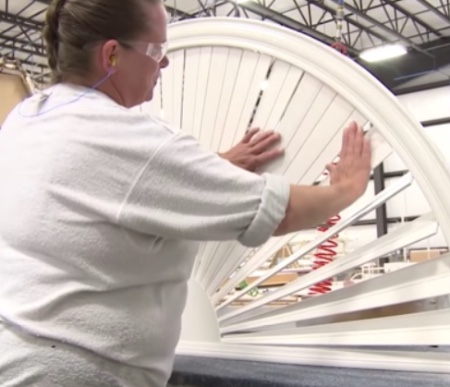 For Sunburst Shutters Orlando customers, the install process begins with your in-home consultation, when we take measurements each window in your house. This ensures that every treatment fits snuggly in your window. Then, your treatments are custom crafted at our U.S.-based manufacturing plant, where it takes only a few weeks to complete them. When your shutters are done, we'll call and set up when we can come and install your plantation shutters.
What Happens During A Shutter Install
Installation day begins with removing your old window treatments so we can meticulously install your new interior shutters.
We install the shutter frames first, making sure they are square and level. Then we'll hang the shutter panels and confirm they open and close without scraping. We'll then try each shutter so we know that the louvers shut tight.
When we're all done with your plantation shutter installation in Orlando, your installers will take you on a walk-through of each treatment so you can see that everything you ordered was installed and works properly. In the end, you'll have perfect interior shutters without any gapping, overlapping panels, or louver malfunction.
Your Plantation Shutter Installation In Orlando Should Be Clean And Professional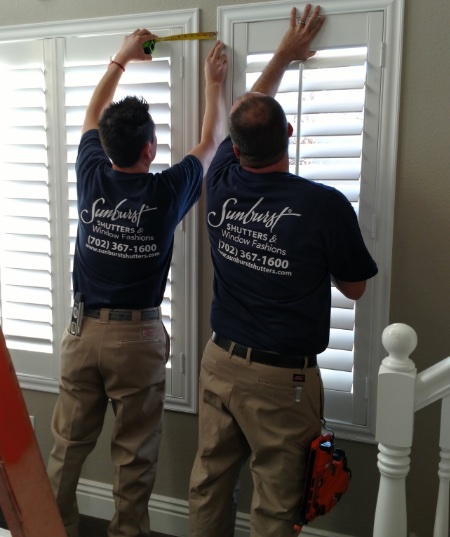 We value your time, which is why we'll arrange a firm appointment time. That's correct, no cable man "between Sunrise to Sunset" time frames.
We also believe that our reps should behave like a guest in your home. We will come everything we need, clean up after the install, and even put booties over our shoes so that you won't see dirty footprints while we're in your home. Our objective is to only leave beautiful plantation shutters on your windows and a good image of Sunburst Shutters Orlando. We'll even cart away your old window treatments with us when we're done!
In a few weeks, we'll contact you again to check to see if you have any questions and if everything is satisfactory.
Sunburst Shutters Orlando Can Help You With Your Plantation Shutter Installation
When you are looking for plantation shutters for your home in Orlando, the first call should be to the Orlando experts in window treatment product and installation. Call Sunburst Shutters Orlando at 407-630-7011 or fill out the form below to schedule a complimentary in-home consultation. Then just sit back and relax and let our professional installers do all the work.