What Are The Leading Window Treatments For Over The Kitchen Sink In Orlando?
When you're shopping for window treatments, don't forget about the kitchen -- starting with the window by the sink. If you have concerns about the constant spattering of food and water disfiguring a window treatment over the kitchen sink in your Orlando home, make the smart choice with durable faux-wood shutters. They look spectacular in every room but are noted for withstanding the kitchen's heat, moisture, and messes.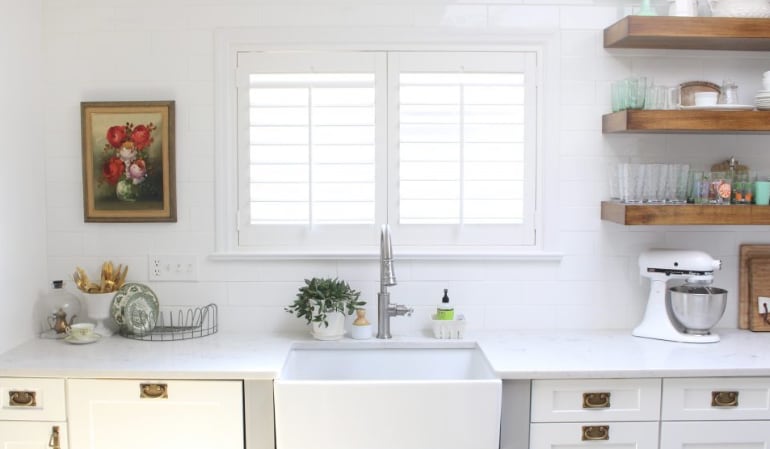 Dazzling Faux-Wood Shutters Look Attractive In Every Orlando Kitchen
Window treatments over your kitchen sink in Orlando should offer function and durability. But you shouldn't have to forego elegance when you use distinctive composite shutters.
This sought-after product melds seamlessly with any design scheme. They are available in various tones of white that complement your kitchen fixtures and decor, and their solid panels of adjustable louvers offer a counterpoint to the the flat elements found in your kitchen. Interior shutters add understated elegance to both high-end and restrained kitchens and all spaces between.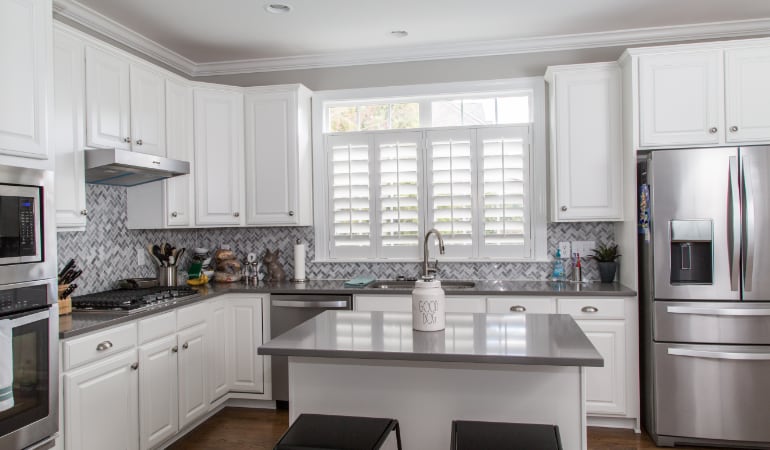 Interior Shutters Stand Up To Harsh Conditions
Have you ever seen moisture along the window glass when you're boiling water or washing dishes? That moisture latches on to window treatments over your Orlando kitchen sink, where it may impact the integrity of traditional cloth curtains or shades as time passes.
You will figure out that Polywood plantation shutters are a easier option. Their wood substitute and tough outer coat resist damage from a moist and steamy environment. These popular window treatments are impervious to water. They will never warp, chip, or split from the humidity in your kitchen.
The sun and changing seasons won't affect on the Polywood material. When Installed for your kitchen window, these products endure both old air and intense UV rays. These exceptional window coverings will not deteriorate due to interior warmth or outside cold, nor will they fade in sunlight.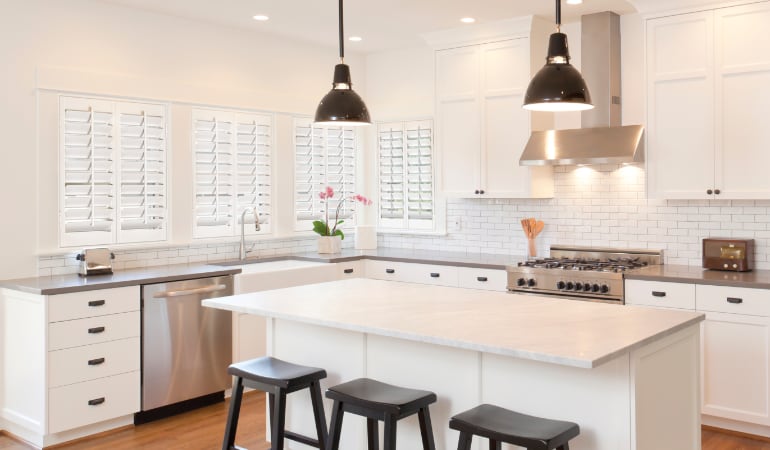 Polywood Plantation Shutters Welcome Light Into Your Kitchen
Lighting is important in your Orlando kitchen. You don't want to cut or burn yourself because the lighting is too dim! Plantation shutters give you the right amount of additional light and are a cinch to adjust. Simply swing the panels outward or use the tilt rod to move the louvers up and down. There's no need to get frustrated with tangled cords or a pull bar that's not easily accessible when you want to change the lighting.
If you want full light, let the panels swing open entirely. If you have too much sun, close the panels and move the tilt bar to allow the right amount of light. You can also shift the slats to reduce glare off counters and flat surfaces within your space. If you don't like neighbors peering into your house, shut the louvers tight for the solitude you desire.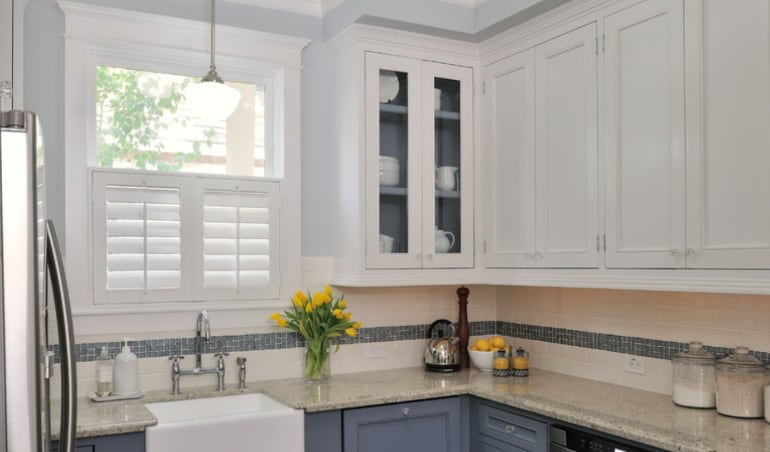 Polywood Faux Wood Shutters Clean Up Easily
Kitchen surfaces collect sauce splatters, grease, and dirt. Any window treatment over your Orlando kitchen sink must be easy to clean. With this in mind Polywood shutters are perfect on a kitchen window. The impenetrable material won't absorb stains and odors as fabric shades do. A simple wipe with a damp cloth, and they're clean again.
You don't have to waste time carefully poking your dust rag around the openings as you would with traditional metal blinds. Shutter louvers are sturdy, and you can choose wide louvers for your custom shutters that provide ample space for you to reach through with your cloth.
Purchase The Best Window Treatments For Over Your Kitchen Sink In Orlando At Sunburst Shutters Orlando
Sunburst Shutters Orlando provides the perfect solution for every window -- even the one above your sink. Speak with our experts about what you have in mind, and we'll be glad to help upgrade your kitchen. Reach out to us at 407-630-7011 or fill out the form below to schedule a free in-home consultation.