Top Window Treatments For Double Hung Windows In Orlando
When Orlando has enjoyable outside conditions, it's nice to get clean air and sunshine entering your home from the top of your double-hung windows. However, standard window treatments are designed to conceal the top sash when pulled down.
If you're looking for a private interior without restricting air and light at the top, install versatile plantation shutters or specialty shades that open at the top and bottom. These window treatments for double-hung windows in Orlando give you the best control of privacy, airflow, and light.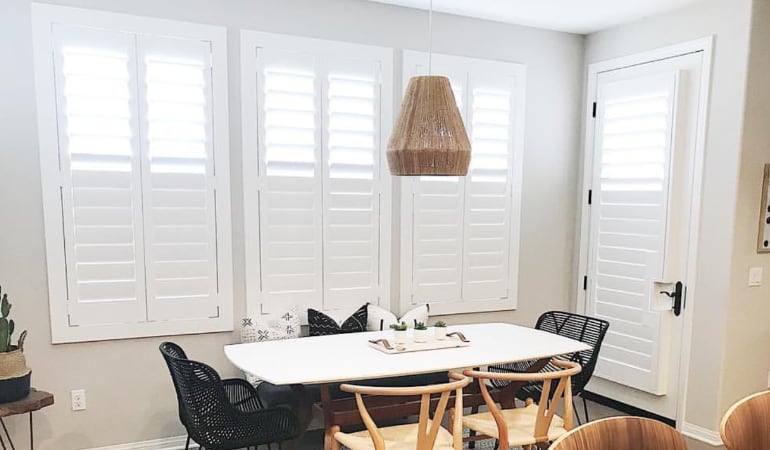 You're In Charge Of Airflow And Light With Plantation Shutters
Similar to double-hung windows, you can open plantation shutters with two different methods: swing open each panel to for an unfettered window or keep them secured together and adjust the louvers with the tilt bar for the amount of light and privacy you want. Either way, you bring in outside air if you slide open the upper or lower sash on traditional double-hung windows. For the best air circulation, pull open your shutters and adjust the top and bottom sashes so a cooler breeze enters at the bottom, and hotter air exits over the upper sash.
Interior shutters are versatile enough to work with double-hung windows with tilt capability. Open your shutter panels and tilt the window back for plenty of airflow. You might ask your installer about mounting them with an outside mount so you can tilt the panes slightly with the shutter panels shut. And of course, you can always use the louvers to change your light and privacy levels.
You also have the choice to incorporate a fixed rail within your panels. Then you can open one section of the panel to welcome in sunlight while leaving the other part of the panel closed for privacy.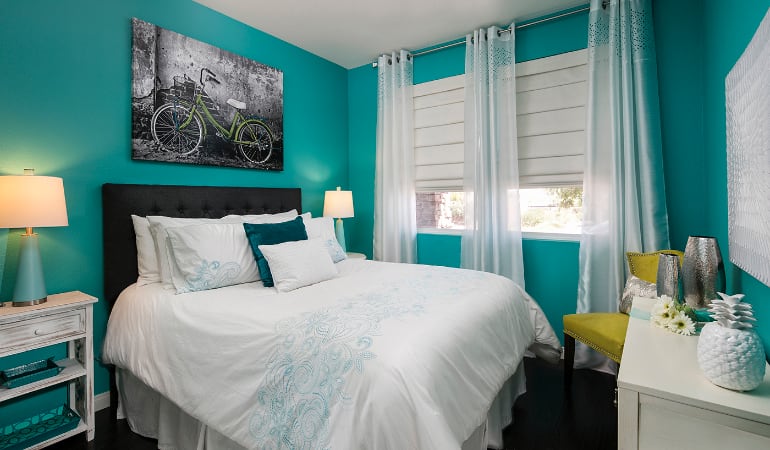 Ensure Airflow and Privacy With Top-down/Bottom-up Roman Shades
Top-down/bottom-up Roman shades can open from the top and bottom, in a comparable manner to your double-hung windows. This makes them perfect for these types of windows when your goal is exceptional airflow and light control without opening a view into your home for curious onlookers.
You can open the tops of your windows and drop down your Roman shade to welcome air and sunlight while still blocking views at the bottom of your window. You might leave small openings in the upper and lower sections for ventilation while leaving most of the window covered.
Considering that you will have your window shades unfurled much of the time, it's smart to choose something as beautiful as Roman shades. The ability to customize to your exact interior make Roman shades a captivating design element for your Orlando home that you'll want to show off.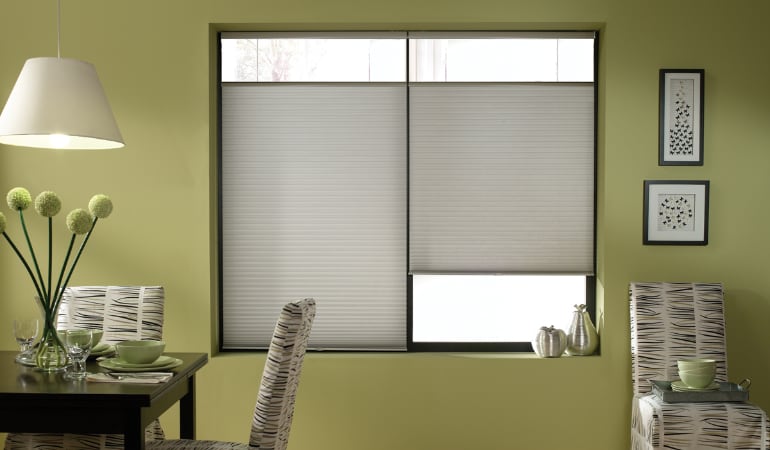 Reduce Energy Costs With Top-down/Bottom-up Honeycomb Shades
Double-hung windows offer excellent ventilation when it's nice outside, but those adjustable sashes can lead to more drafts than other installations. One way to counteract this is through the use of top-down/bottom-up cellular shades. Also known as honeycomb shades, this treatment features little compartments or cells that catch exterior air flowing past your window panes.
This clever design also helps prevent inside air from leaking out. Considering this benefit, honeycomb shades help make your inside temperatures consistent and your energy costs low.
Their energy efficiency makes honeycomb shades sought-after Orlando window treatments on double-hung windows for any time of year. Open them at the bottom or top to match with your windows for a gentle breeze when it's nice out and cover your windows back up to shield your Orlando home from excessive heat or cold when the seasons change.
Contact Sunburst Shutters Orlando About Window Treatments For Double-hung Windows In Orlando
Enjoy all the benefits of your double-hung windows with exceptional window coverings from the leaders at Sunburst Shutters Orlando. Our consultants will provide the information you need on our impressive line of products and implement the right window treatment for your Orlando home. Contact us at 407-630-7011 or fill out the form below to schedule a free in-home consultation.