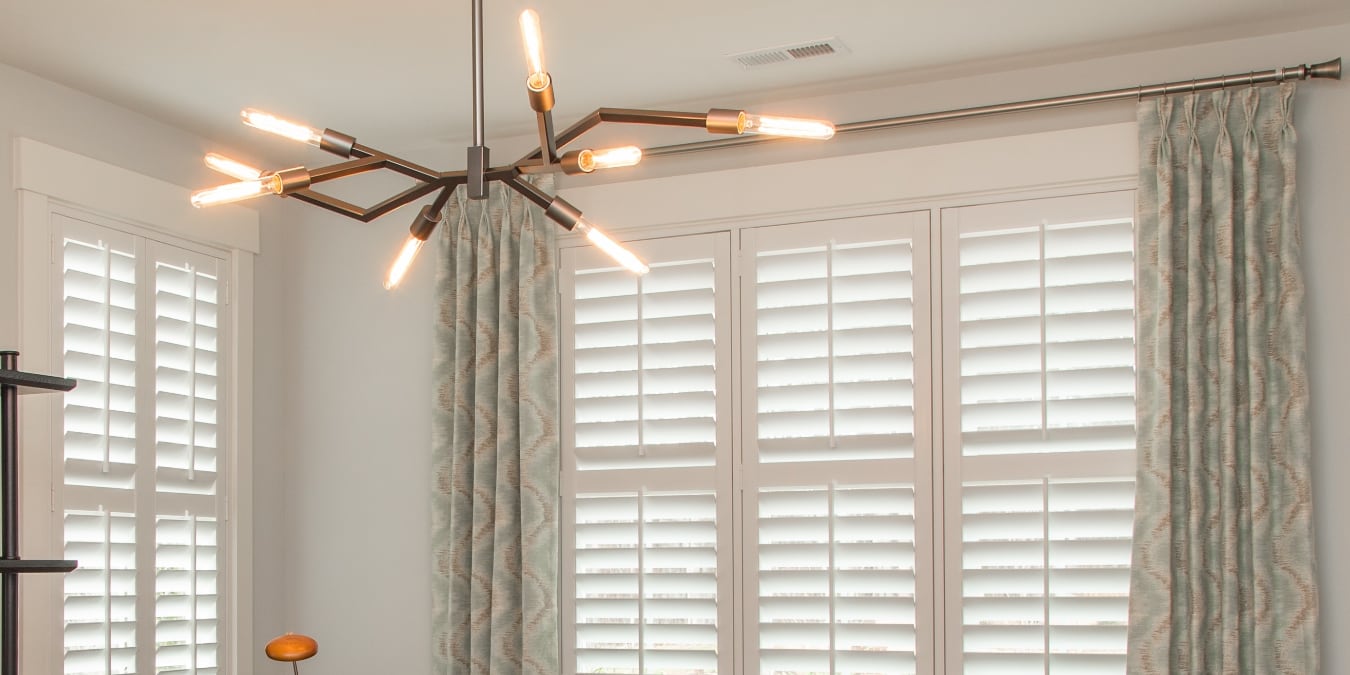 Home Office Window Treatments In Orlando That Work For You
If remote work is your new way of life these days, you likely need help in optimizing your Orlando home office. A good place to start is your window treatments. Want to see a side by side comparison of the variety of home office window treatments?
Check out our window treatments chart, for window treatments perfect for your home office.
Options like plantation shutters and motorized window shades are popular home office window treatments for Orlando residents who wish to create a comfortable and productive work environment without giving up your home's personal charm. These alternatives are even capable of helping you look your best during teleconferencing! Here's how to employ these window treatments to your best interest.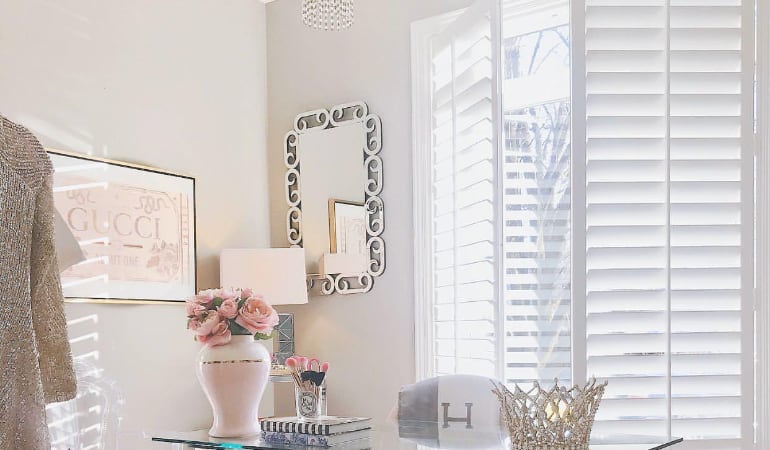 Plantation Shutters: A Top Choice In Home Office Window Treatments In Orlando
Working from home can be challenging, so choose home office window treatments in Orlando that can optimize your space. The time-tested craftsmanship of plantation shutters makes them a winning solution when you want to control your workspace's lighting and comfort levels.
A benefit of working remotely is that you are in charge of the comfort levels. But keep in mind, you aren't looking to increase your utility expenses by using your furnace or AC all day long. Polywood shutters with insulating qualities will make a difference. During warmer months, shut your plantation shutters to reduce the interior temperature and keep the glare off your monitors. During colder months, that insulating ability keeps drafts at bay.
Looking to reduce electric bills or tired of poor lighting? Move the louvers on your Polywood shutters for natural light that you can direct away from your computer display and into other parts of your room. If needed, close the louvers again to remove potential diversions like noises and passersby. Keep them shut to maintain privacy after dark if you need to work late.
If you'd like some flair in your home office, the attractive features of interior shutters create a dazzling design component that gives a boost to even the plainest office window. They can be found in a wide array of versatile colors as well. Whether you pick crisp white Polywood shutters or a warm and welcoming hardwood shutter, your dazzling home office window treatments will have you happy to be working remotely!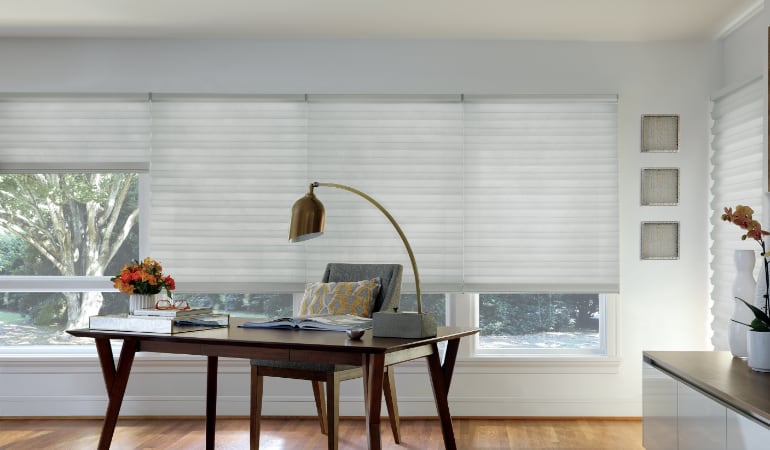 Motorized Window Shades Provide Variety And Convenience for Orlando Remote Professionals
Like interior shutters, various types of customizable shades provide coverage and insulation for your home office. Light-suppressing blackout shades block sun glare. Eco-friendly cellular shades protect you from chilly drafts and keep warm air in. Transitional shades allow you to pick between soft, filtered sunlight or total darkness.
Window shades can be found in various colors, textures, and materials to fit your individual preferences and fulfill your dream of a perfect home office. You might like a distinctive option like Roman shades that provide an elegant backdrop during conference calls or a practical product like roller shades to avoid distractions.
If you've decided on the style of window shade you wish to install, consider the motorized version to enhance your workspace further. Motorized window shades are controlled by a remote device instead of manually. This gives you numerous options for controlling the lighting in your home office.
When the sun moves and a glare interrupts your attention, you can adjust your shades with the press of a button without leaving your desk. If sunlight is washing you out on a video call, or you realize your office looks too dark online, you can let down or raise up your motorized shades right from your workstation without disrupting meetings. Your boss and colleagues will be jealous of your professional workspace when you customize your home office window treatments in Orlando.
Are You Still Contemplating Which Window Treatments Is The Best For Your Home Workspace? We've Included This Chart To Help You When Comparing All Of Your Options.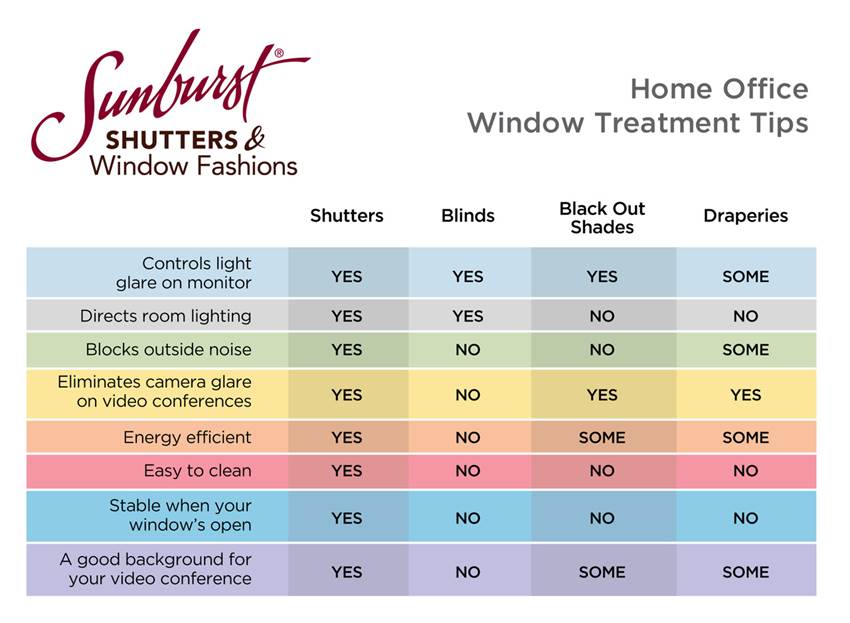 Elevate Your Orlando Home Office with Window Treatments From Sunburst Shutters
You'll work better when your window treatments keep you comfortable and distraction-free. Speak with the window treatment professionals at Sunburst to make the right choices for your home office. To schedule a complimentary in-home consultation, call us at 407-630-7011 or fill out the form below.