8 Great Applications for Reclaimed Wood in Your Orlando Home
This could very well be news to you, but reclaimed wood is really catching on with Orlando residents, who apparently gravitate toward its natural look and what it does for their home décor. It's making definite inroads as a new way of repurposing weathered wood and unleashing your own distinctive style. Reclaimed wood products are genuine eye-catchers whether you use it on a wall, your cabinets, or even your windows. Think some reclaimed wood suggestions are in order? We have 8 sensational ideas for you – all applied to gorgeous effect in Orlando homes.
1.Outfit Your Windows with Reclaimed Wood
Believe it! This is a first: reclaimed wood – that décor option you've long sought to showcase in your home – is now, at last, available to you as an extraordinary window treatment. Sunburst Shutters now offers a plantation shutter formed from the best possible reclaimed wood. To be sure, Sunburst is the sole company providing reclaimed wood shutters in the Orlando area. We searched high and low for the reclaimed wood you want and used it to create a louvered shutter that's as functional as it is beautiful.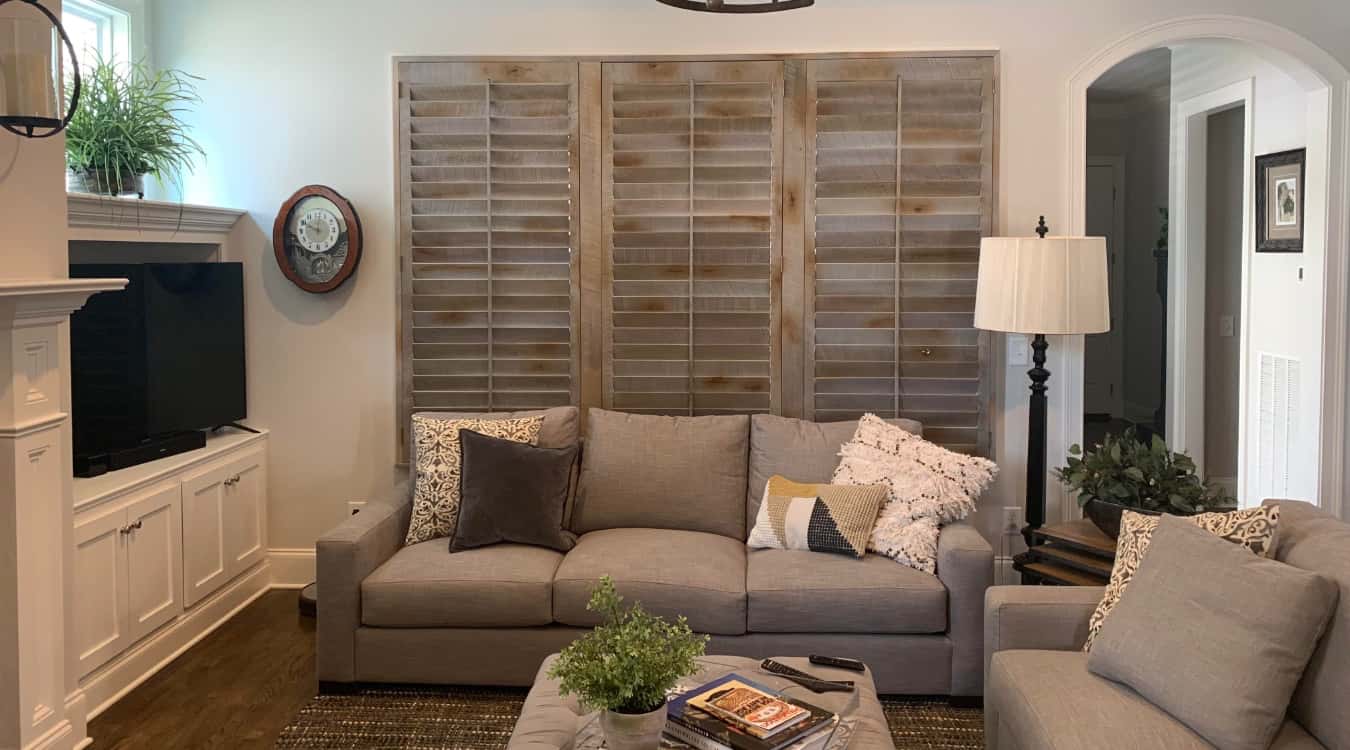 Reclaimed wood can become the makings for a window treatment that's wholly original. You've got a head start, for sure, when your reclaimed wood shutters are themselves works of art. And Sunburst sees to it they are. You'll find that their smooth, simple operation is as appealing as their look. Tilt the louvers open to let in more light. And tilt them closed to bring out the weathered look of reclaimed wood on your window. Don't simply take our word for it, though. There's a lot more to discover about reclaimed wood for windows in Orlando. Go for it!
2. Walls of Reclaimed Wood
Nothing brings the outside into your home as magically as a reclaimed wood wall. Reclaimed wood paneling adds subtle drama to a wall and imparts a cozy feel to the room. Whether you have a TV, bookcase, fireplace, or artwork you want highlighted in a room, a reclaimed wood wall will look fantastic behind it and produce precisely the effect you you want.
3. Reclaimed Wood and Floors
Been thinking about redoing a floor in your house? Wood flooring of any kind can impart warmth to a room, but flooring of reclaimed wood has an unparalleled beauty that says something about the time – usually decades – the wood has been outside. Regardless of whether you like the great outdoors or just like the look and feel of weathered wood, you'll be thrilled with what a reclaimed wood floor can do to revitalize your home.
4. Use Reclaimed Wood in Cabinets
This is the perfect time to give your kitchen cabinets a sprucing up with reclaimed wood. It's the natural way to revitalize your kitchen as a whole. Every panel of reclaimed wood conveys a fascinating story – of long years hidden away in an old building, maybe, or in the crumbling structure of a barn or fence. And a piece of that story will live on in your reclaimed wood cabinets, crossing your mind at such times when you reach into them.
5. Reclaimed Wood for Tables
Tabletops made or consisting of reclaimed wood can impart a ultra-current, decidedly different ambiance to your dining room or home office. Partner the reclaimed wood's natural tones and textures with your décor scheme to achieve a consistent, agreeable look that fulfills your expectations – at the same time it elicits praise from guests!
6. Reclaimed Wood for Bookcases
However else we may regard them, books make marvelous decorative pieces. Leather, vinyl, buckram, or paperbound books and those with colorful dust jackets look great on a coffee or end table, on a bookshelf, or in a large bookcase. Their pleasing variety is both differentiated and brought together in bookcases of real wood, too. And bookcases of reclaimed wood, given their natural colors, knots, holes, scratches, and other telling features, are a particularly distinctive, one-of-a-kind furnishing.
7. Reclaimed Wood as a Frame
The weathered, natural look of reclaimed wood is perfectly suited for picture frames. It's just what's needed to show off your favorite artwork and most cherished photos in a uniquely splendid manner. It's worth noting, too, that frames of reclaimed wood can be assembled in a wide range of styles, thus they'll harmonize with practically any interior design.
8. Reclaimed Wood and Headboards
Not much can restore the look of a bedroom like a cleverly designed and constructed headboard. These days, when renovating, homeowners are just as inclined to rig a headboard to the wall behind their bed as they are to attach one directly to the bed itself. However you want it, a headboard adapted from reclaimed wood planking can be particularly breathtaking. It's natural tones and imperfections make it well suited to a diverse number of styles, from antique to modern. With reclaimed wood, you'll find you have no limits on your imagination to get in the way of you realizing the headboard that dreams are made of!
Find Your Inspiration in Reclaimed Wood
Our goal was to inspire you with these 8 ideas for getting the most out of reclaimed wood. As you might expect, though, we have so many other ideas to share – ideas that beautifully complement the reclaimed wood shutters we alone provide in Orlando. Our staff would be delighted to show you samples of our shutters, answer your questions, and give you a range of other superb design ideas. Give us a call at 407-630-7011 to schedule your free in-home design consultation today!